Jenéssa Li (Born February 14, 1993), is a Korean-American model and former actress.
Biography
Li was born in the town of Twinbrook, Simisouri and in 2010, moved to the city of Bridgeport to pursue a modelling and acting career. Being related to the entertainment producer and former model, Bren Owens, Li was able to land many career opportunities as a model. In 2013, Jenessa starred in the drama series, Trapped as Jenny Park, which aired for about two episodes before it's cancellation.
Early Life
Jenessa was born in a wealthy family. She is the daughter of Lawyer, Victor Kwon and Haryn Li. In 2002, Jenessa and her family faced the tragic loss of Haryn, who passed away from Leukemia. Since her mother's passing, Li was neglected from her father and suffered from depression. In an interview, Jenessa stated that what kept her happy was her older sister Gina, her friends at school and Drama club, which was her absolute favorite school activity. Acting has always been a passion of Jenessa's since she was very young. After graduating high school, she left Twinbrook with her sister Gina and moved to Bridgeport.
Trapped 
In 2013, Jenessa starred alongside Gina Li and Britney Reynolds in a tv-drama series called Trapped. Li played as nineteen year old Jenny Park, who has been residing with older sister Gina in a city known to have prestigious socialites and celebrities.Li stated that the series was kind of based on her life in the past and her life settling into Bridgeport. Trapped followed a series of five characters, each facing their own situations.
Episode one first aired on July 4th, 2013 and has been praised for it's debut. Shortly after the second episode has been aired (on August 8th, 2013), Li announced that the series will be cancelled due to ratings and personal commitments of actors that conflicted with filming.
Other Activities 
On June 6th, 2014, Li was featured in Cassidy Williams' music video, The Mashup along with Britney Reynolds.
Personal Life 
Li has taken a hiatus on acting to focus more on her modeling.
In 2016, it is revealed that Jenessa is now planning to study at a cosmetology school in Bridgeport.
She is currently engaged to Ezekiel Manzano Williams.
Controversies 
Trapped Cancellation
Although Li has made an official statement on the cancellation, several rumors and gossip blogs has reported that Jenessa and Gina didn't get along very well behind the scenes and didn't see eye to eye on the direction of the series. Though neither sister had made any comment regarding those rumors.
Domestic Abuse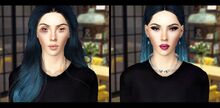 On the 15th of May 2015, Li posted a comparison photo of herself covered in make-up and revealing her beaten face, with the caption " It's about time you observe what you made me go through all this time." Many have speculated that her ex-boyfriend and socialite, Nathan Adalias, was the reason. Shortly after, Li has made a statement and revealed that she was abused by Adalias.