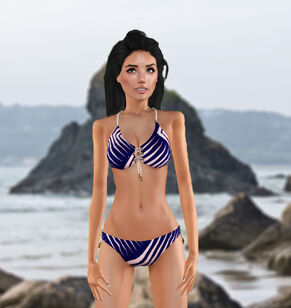 Sara Simpaio is a Model and a lifestyle blogger from Bridgeport.
Biography
Sara was born in Barnacle Bay but spended her childhood in Bridgeport. Recently, she moved to Lucky Palms to pursue her model job. In 2015, she started a lifestyle blog with her bestfriend.
Model Career
Sara started modelling as a teenager. Then, Sara apeared in different magazine and different publicities for luxurious brands. Now, she is one of Mademoiselle Sims 3 (a french simsmagazine)'se face. Since the magazine announced their last issue, she's part of a new very secret project.
Blog
Sara and her bestfriend started an Instagram Feed during 2015 summer. Then, they decided to open a blog (named simsandpeanutbuttertb)on tumblr to talk about their model life. Her friend decided that she could'nt continue and Sara is now managing it alone.
Personnal Life
Sara met her boyfriend during a photoshoot in Bridgeport. They are together since more than one year now.