Savannah Rachel Bellingham Plumb Cheesman
(ruh-SHELL) (born 9 Apr 1974) is an author, adventurer, and heiress best known for her 1997 novel
Interview with a Mummy
and her 2015 Vaughan Prize winning novel
The Lost Dragon Egg
.
She is of English, Irish, French, German, and Native Simerican descent.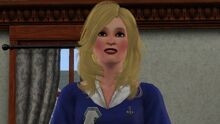 Early Years
An urban legend told to this day in Sunset Valley holds that when Savannah's mother, Shandra, was pregnant with her, she spent a lot of time in the local cemetery at night, to fish for deathfish, one of the main ingredients for the ambrosia recipe. Cemeteries often come alive at night with the presence of long-departed souls. Whether true or not, this may well be the source of Savannah's lifelong love affair with specters.
Savannah Rachel Bellingham was born at Sacred Spleen Memorial Hospital in Sunset Valley. When her parents, Nathan and Shandra, got married, she was given the Plumb surname. She was named after a street in Twinbrook, her mother's birthplace. Her parents, both classical musicians, valued education. Her privileged upbringing began in earnest at Summer Hill Court, and her education was begun quickly. In the early years, it was overseen by her aunt, speculative fiction novelist Margaret Plumb, and by her polymath mother, Shandra. They started off normally, by teaching the little girl to walk, talk, and toilet. Then they went with peg and xylophone toys and proceeded to skill books.
But that wasn't the only thing unusual about Savannah. She was a bright and incredibly serious child who almost never smiled. When she was at home, the sober little girl would often be found exploring her aunt's bookcase or painting on her mother's easel. Family friends were shocked by the seriousness of Savannah's demeanor. No one in the family could recall her ever playing with a traditional children's toy.
Career
After a rebellious adolescence and a young adult period spent traveling the world on various adventures, Savannah began her writing career. Her first novel, Interview with a Mummy, was begun when she was in an Egyptian tomb. The book was a runaway best seller and a thinly veiled autobiography. In Interview with a Mummy, archaeologist Saffron Palmer, after a troubled adolescence, seeks ancient relics in Egypt. "Saffron," the daughter of aging actors Nick and Sharon Palmer, was bright but rebellious, clearly seeking something more fulfilling than the privileged life she'd been born to. Most Sims reading the novel knew that "Saffron Palmer" was a pseudonym for Savannah Plumb. Still, they gobbled up the book anyway. Critics praised the book, calling Savannah "an extraordinary new talent... This young woman clearly knows how to spin a yarn," and referring to the book as "exceptional." It won the Critics' Choice award and was a finalist for the Vaughan prize for literature.

Her follow-up book was almost as successful. Entitled Dances with Ghosts, this novel detailed her paranormal experiences, beginning from a childhood and adolescence exploring the catacombs of Sunset Valley and her conversations with spirits. Her third novel, which was released in October 2012, is called Alys in Wonderland, and details the story of Alys de Montfort, from her medieval origins to her reappearance as a ghost in Sunset Valley. This book came from her ghost hunting experiences. She no longer hunts ghosts actively. In addition, two of her daughters have shown signs they, too, plan on doing something with writing.
Savannah won the Vaughan Prize in 2015 for The Lost Dragon Egg, a magical fantasy novel based on the legends of Dragon Valley. She admits that she wrote the book on a lark, and was surprised when the novel reached the top of the best seller list and was nominated for the prestigious book award. Critics raved that it was 'genre-defining' and 'the work of a fully realized, mature writer and woman.'